READY FOR SEMA SHOW 2023!
Join us at the highly anticipated automotive trade event SEMA Show in Las Vegas from October 31 - November 3, 2023. You can book a meeting in advance already now!

27.10.2023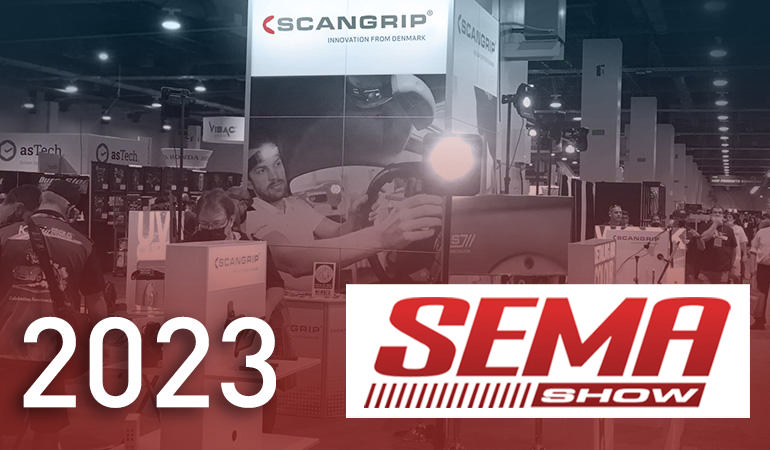 Once again, SCANGRIP will be present at the SEMA SHOW, showcasing innovative lighting solutions for the painting industry and specialized LED solutions for UV curing. Join us at booth no. 33077 in the Upper South Hall and be the first to witness the launch of our new and enhanced products!

We are excited to unveil the latest version of our immensely popular MULTIMATCH work lights. With complete compatibility across leading power tool brands, these work lights provide you with complete freedom. Say goodbye to limitations and use any 18 V/20 V battery pack you prefer. With their adaptability, precision, and enhanced features, these MULTIMATCH CONNECT work lights are sure to revolutionize the way you illuminate your workspace.
Prepare to be captivated by our innovative UNIMATCH work light, combining the power of a head lamp with the convenience of a penlight, offering you versatility like never before. Seamlessly switch between hands-free illumination and a compact penlight, allowing you to work efficiently in any situation.
Meet SCANGRIP at SEMA SHOW 2023

Come visit the SCANGRIP booth no. 33077 at the Upper South Hall, where our expert team will provide in-depth insights into our exceptional lighting solutions. Do not hesitate to book a meeting with us in advance, ensuring a personalized experience tailored to your specific needs. Prepare to be amazed as we showcase the practicality, convenience, and powerful performance of our innovative lighting solutions.