4th generation of DETAILING AND COLOR MATCH lights
We are proud to launch the next generation of our specialized lighting solutions for the painting and detailing industry, providing the most sophisticated tools of their kind in the world.

21.06.2022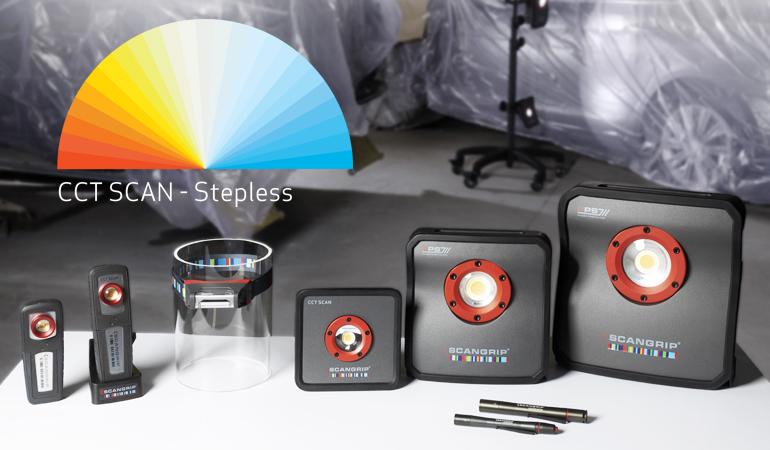 Featuring high CRI value and multiple color temperatures, our specialized lighting solutions are made for color matching, detailing and inspection of general paint work, increasing the quality and finish of each, individual operation.
Benefit from the entire color temperature spectrum
As a unique feature, the new 4th generation DETAILING AND COLOR MATCH lights come with the new invented CCT SCAN functionality which reflects the entire color temperature spectrum that occurs during the day.
By activating the CCT SCAN function, the work light will automatically sweep stepless between the color temperatures 2500K and 6500K. At any point, the CCT SCAN function can be locked, and in this way, you will be able to customize the light to the specific task.

Flexible accessories for increased functionality
To give you maximum flexibility, the product range also includes suspension and stand solutions for both stationary and flexible positioning of the lights.
The upgraded SCANGRIP WHEEL STAND provides flexible positioning of your work light in the detailing workshop. It is designed with new base which is equipped with 5 wheels and comes with a flexible bracket that enables you to easily position a second work light to illuminate from below.
Using the SCANGRIP DIFFUSER accessory increases the functionality of the work light significantly as the diffuser softens and spreads the light on the surface of the car while avoiding hard shadows from the light. It is especially applicable for checking high spots while coating, as well on car dent repair and detecting dust nibs on painting.